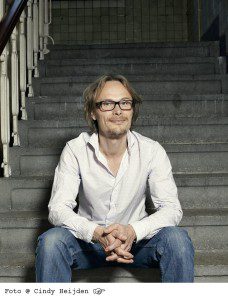 Welcome to my website, which is a shameless plug for projects I'm working on and a way to peddle stuff. 
I produce features for radio, internet, podcasts, film, sound works and writings. In addition I work as an interviewer, moderator and guest tutor.  I studied philosophy at the University of Amsterdam, and film and photography at the St. Joost Academy of Fine Art. 
Many of my works are idea-story driven. From very short (1 min) to any length. Documentary and essayistic, and to a smaller extent fiction. I like to mix things up. Overview and details of individual works 
My credits include wonderful radio documentaries for VPRO Toendra; the much acclaimed Dutch Public Radio shows Plots and the 1 minutes; radio plays for Woord.nl; my films screened at networks, cinemas, festivals and galleries; such places as Best of IDFA on tour, SXSW, Porto Bello Festival, Cologne Conference and Dutch Public Networks.
Honours
I was nominated for Prix Europa in 2016 with radio-essay North (NPO radio doc) and in 2015 with radio play Föhnkrankheit . In 2013 the radioshow VPRO Plots was awarded the Zilveren Reissmicrofoon (Nipkow) and a Jan Kassies Stimuleringsprijs. In 2009 my first long documentary film Calling E.T. screened at SXSW, TopTen Cologne international Film & Television Conference and the Best of IDFA on tour. In 2002 his short doc 'A night with Michael' was awarded a Golden Olive.