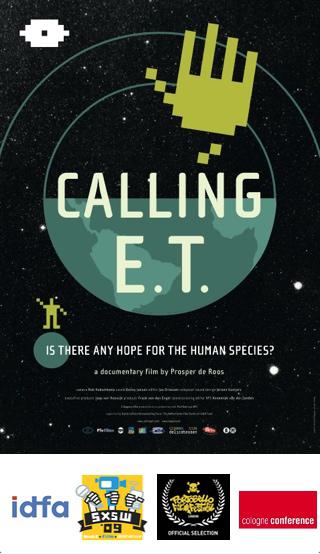 A thought experiment; what if we make contact with our galactic neighbours? Should (or can) we speak as one world?
Just imagine that we were to get in touch with our galactic neighbours. Now, in our lifetime! There is a small group of scientists and diplomats who are seriously taking this unlikely scenario into account. Their daily life is spent looking for signals from extraterrestrial civilisations and wondering how we, earthlings, should present ourselves if we were to make real contact. There is a protocol for the big moment. The wish to speak as one world. But will we manage to do that? Old tensions dating from the Cold War between the West and Russia, are surfacing again in this area. Can contact with extraterrestrial beings help to solve the problems of our planet? What are the obstacles they are going to meet and how will they overcome them? And will we manage to speak as one world?
CALLING E.T.
Documentary film, 54 and 60 min
Best of IDFA on tour Amsterdam 2009/ nominated at Portobello Filmfestival London 2010/ TopTen Cologne international Film & Television Conference 2009/ SXSW festival 2009 / Most watched Dutch Docs on Hollanddoc 2009
Producer Zeppers Film. Co-production NPS and Plu Films. Supported by the Dutch Film Fund, the Dutch Cultural Broadcasting Fund and Cobo Fund. Sales agent: Transit Films.
WITH Laurance Doyle, Jerry R. Ehman, Ernst Fasan, Michael Michaud, Paolo Musso, Alexander Ollongren, Seth Shostak, H. Paul Shuch, Jill C. Tarter, Douglas Vakoch, Dan Werthimer, Alexander Zaitsev
CAMERA Rob Hodselmans SOUND Benny Jansen EDITOR Jos Driessen, Govert Janse COMPOSER, SOUND DESIGN Jeroen Goeijers EXECUTIVE PRODUCER Jaap van Hoewijk PRODUCER Frank van den Engel COMMISSIONING EDITOR NPS Annemiek van der Zanden SCRIPT COACH Eugenie Jansen PRODUCTION MANAGER RUSSIA Edwin Trommelen ASSISTANT RUSSIA Marina Drozdova SUBTITLES Erik Pezarro, Masja Novikova, Carla Kloet TRANSLATION Eva Mesker VOICE OVER Peter Bolhuis, Chip Bray THEREMIN PLAYER Wilco Botermans OFFLINE EDIT STUDIO Studio Vermeer GRADING Jef Grosfeld ONLINE Loods Lux & Lumen ARTWORK Kunny van der Ploeg PRODUCTION MANAGERS Willemijn Cerutti, Jorinde Soree ASSISTANT PRODUCER Charlotte Sarneel, Mara Mouwen
Buy dvd via Bol.com or send me an email. DVD review in Moviescene